Kinky Medical Fetish Play, & Sensual Domination with Suzanne SxySadist AKA naughty Nurse Nasty!


This site is about medical fetish & kinky nurse role play such as catheter play, urethral sounds, and mock castration fantasy!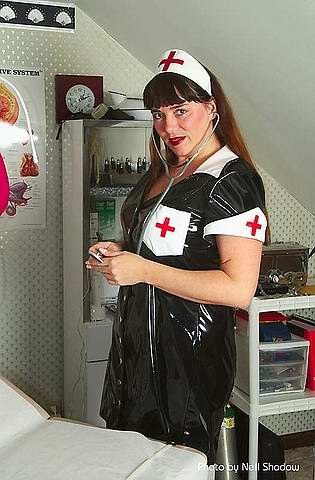 Disclaimer: Naughty Nurse Nasty does NOT have a real life medical practice, is NOT a qualified licensed medical professional and is in no way pretending to actually practice medicine.Although this fem dom with a heavy nurse fetish, has sought a great deal of training to perform some of the kinky medical play procedures that she explores in her mock medical exams, she does NOT attempt to diagnose illnesses or disorders, prescribe drugs or do any surgical or medical procedures that involve intentional permanent injury, damage, body modification or disfigurement to her "patients". For example while she enjoys sensual domination play that may include mock castration fantasy scenes she does NOT do permanent removals!
SO PLEASE: if you believe you are in need of real medical attention, (including psychiatric care) get off the computer and go see a qualified medical professional! Naughty nurse nasty will NOT take your insurance anyway and your usual co pay will NOT even begin to cover her fees.

Finally, please do NOT try any of the things pictured on this site without proper training by an experienced or qualified person. You could get seriously hurt.
The Nurse will be with you shortly but she is not a pediatrician!

You must be a adult over the age of consent to access this web site due to the adult nature of it's content! If you are not a consenting adult or if you have objections to adult photographic material, then please exit this site.Thank you!!

Please Read!
I am an adult and I am at least 18 years of age.
I do not find adult content material about alternative lifestyles, or BDSM to be offensive or objectionable.
I have the legal right to possess adult material in my community.
I understand the standards and laws of the community in which I live.
I am solely responsible for my actions and I am not influencing minors.
I will not reproduce or redistribute any of the content found within.
I will not allow any minor access to any material I get at this site.
I will not use this material in violation of the above agreement.
If I am in violation of local or federal laws I am solely responsible.
By continuing, I will have released the providers, owners and creators of this site from any and all responsibility and liability which might arise from such use.
Book marking any location on this web site whereby this warning page is not viewed as the initial page shall constitute an implicit violation of the terms set forth in this agreement.
---
Privacy Statement:
NO PERSONAL INFORMATION IS COLLECTED BY NURSENASTY.COM
via cookies or any other technology. Any information voluntarily provided by surfers will not be sold or used for any purpose other than specifically stated.
All models are at least 18 years old.
Model releases with proof of age are on
record and available for inspection.
Please email for details.