About naughty Nurse Nasty – Mistress Suzanne SxySadist
Mistress Suzanne SxySadist (aka Nurse Nasty) has been a professional Dominatrix for nearly 20 years and has vast experience and a true love for her art. She has a very sensual style of domination and enjoys playing on all levels from gentle to highly sadistic.
Although she is NOT a licensed medical professional, Suzanne has taken two semesters of college anatomy & physiology courses and passed both with a perfect grade point average. She is also CPR certified and trained in basic Emergency Life Support techniques. She has also taken over 200 hours of professional massage training courses with the Body Electric School.
She is lively, creative, playfully sadistic and as you can see, very beautiful. If you want to learn more about her and her style of Fem Dom & BDSM domination you may check out her main web site at www.SxySadist.com where there are interviews and faq's as well as many testimonials from happy little clients.
Fetish Medical Play…
…has long been one of her specialties and she has endeavored to learn as much as she can about safety protocols as well as a wide variety of procedures that she delights in pulling from her little medical bag – o – tricks.
She is trained in catheters, enema play, urethral sounds, scrotal saline infusion and much more and even teaches classes herself on many of her favorite topics! For more information on the types of medical play in which she engages, please see the "Medical Fetish Procedures Available" page.
In the mean time here is a lovely little anatomical pic that shows a few of Nurse Nasty's favorite places to explore (err I mean play..) or is it torture? Oh well, you get the idea!
---
My Wicked Medical Fetish Wish List…
Although the exam room is already incredibly well equipped & stocked, Nurse Suzanne always has her eye on new gadgets she would like to add to it. If you are the kind of generous soul that enjoys buying gifts for your favorite kinky medical practitioner, then this page will give you ideas on what she would most fancy.
Wish List Items:
A new or gently used autoclave is definitely on the top of my wish list!! If you have any good leads please let me know! 

My friend's over at JT's Stock room have let me put together an online wish list that is REALLY easy to use and they have some really AWESOME stuff! Take a peek!
JT's Stockroom Wish List
The following items are available from Medical Toys.com (one of my other favorite kinky medical shops!!) They are all medical ALL the time and have a GREAT resource section! Be sure to visit them!
Heavy Duty Canvas Straight Jacket Size Large Price: $159.95
Heavy Duty, Locking Institutional Cuffs Wrist & Ankle Price $210.00
Super Intruder Rectal/ Procto Scope 8″ Price $55.00
Ultimate Anal Spreader Price $75.00
Nasal speculum Price $14.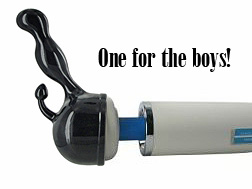 Measurements: 3.25″ insertable length
1.22″ max. i.d.
2.3″ i.d. of attachment cup
Prostate Stimulator Attachment for Magic Wand
Item #340-9010
Price: $15.95