Medical fetish videos / movies about strap on sex, CBT, catheter fetish, erotic enemas & more by Naughty Nurse Nasty!
These films are of my own private Fem Dom play sessions with a personal slave of mine. For those of you that are used to buying high quality, scripted and exceptionally well done medical fetish videos and movies, you may be disappointed.We merely set the camera up in the corner before we begin the scene and it is allowed to run all on it's own (except  for CBT/ Strap-on).
However these scenes are very real and many are quite graphic and intense and I have gotten some wonderful reviews as seen below! I hope you will enjoy them too.

Comments from satisfied customers:
"Wow! thanks for sending the tapes they
are awesome.  The realism and intensity of a real session
are much better than the faked action of some other vids
that i have, even if the production is not as fancy or "polished".
More close – ups of your beautiful face would be nice! :}
You have a combination of beauty and sadism that is rare
and special"
"Mistress Suzanne,
Thank-You for allowing me to purchase Your video. It arrived
safely and it was HOT!!!!!!! Really liked the looks of that
black cane, bet it could raise some nasty welts. You are
very beautiful, i can see where You get "Sxy Sadist".
Very HOT!!!!!! Thanks again Mistress."
Medical Fetish Video Title & Description
A Hydro-Therapy Visit! (Enema fetish,
foley catheter fetish & Bladder Irrigation)
Nurse Nasty's first enema & catheter fetish / bladder irrigation video! My poor patient is the victim of one of Nurse Nasty's first enema fetish experiments as well as a HUGE foley catheter!
Warning! This video is Not for the squeamish!
I strapped my "patient" down for his own protection of course and then started
with a "double balloon" enema to see just how much water I could force into his bowels. Once that was thoroughly locked in place I started the catheter play! And wow what a catheter! This was the biggest damn thing I have ever fed into a man's urethra! Once the foley catheter was locked in place I began the process of running saline into his bladder
as well. He was so full of liquid I thought his eye balls were going to float! Definitely a wet and wild one.
To pay $19.95 by credit card thru NiteFlirt & obtain a link for instant download click here:
Scrotal Saline Infusion and Saline
Inflation
Or My what BIG BALLS you have!
This poor slave showed up for his annual physical and Nurse Nasty decided that he was severely dehydrated (she can't imagine how that could be after the enema he had last time) but luckily she has a cure for that!
500 milliliters of saline injected into his ball sac should be just what the fem dom bitch
err Dr ordered! This is a relatively small saline scrotal infusion, but this poor slave still had to figure out how to hide his huge balls from the Mrs for the next 2 days. <grin>
To pay $19.95 by credit card thru NiteFlirt & obtain a link for instant download click here:
CBT (Cock and Ball Bondage / Torture) / Strap on Sex Training & Play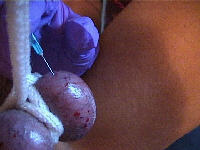 My dear subbie "r" played camera slave this time while I tormented another one of my little darlings first in the medical room and then in the dungeon.
We started out with some cock & ball bondage and then cbt training, in the form of some prickly pointy ball torture (which led to a bit of bleeding). Then we stepped things up a bit to include needle play testicular piercing, and other forms of ball torture like beating, crushing & more! Be forewarned, this is pretty extreme CBT!
Later on he was subjected to an intense bit of urethral "sounding". A urethral sound for those that do not know is a metal rod that is inserted into the penis for the purpose of internal stimulation.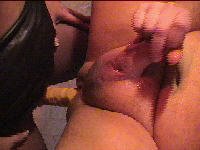 Eventually we moved onto a warm up bit of anal / ass play! When I felt he was ready I took him into the next room, threw him in the suspended sling and got out my favorite strap on dildo for a very deep and intense bit of serious ass play time and more
BDSM CBT with Mistress!
(Note- this was a personal play session between consenting adults and as such there are activities occurring in it that would NEVER be included in a professional session with a Fem Dom or Professional Dominatrix. Also some of the activities pictured here may be illegal in your state and you must be aware of your own local and state laws before ordering this product.)
To pay $19.95 by credit card thru NiteFlirt & obtain a link for instant download click here:
I have several other non medical fetish related titles and photos sets available on my main website. For a more complete listing please go here: