CBT (Cock and Ball Bondage / Torture) / Strap on Sex Training & Play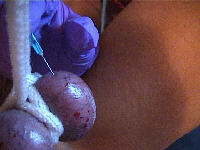 My dear subbie "r" played camera slave this time while I tormented another one of my little darlings first in the medical room and then in the dungeon.
We started out with some cock & ball bondage and then cbt training, in the form of some prickly pointy ball torture (which led to a bit of bleeding). Then we stepped things up a bit to include needle play testicular piercing, and other forms of ball torture like beating, crushing & more! Be forewarned, this is pretty extreme CBT!
Later on he was subjected to an intense bit of urethral "sounding". A urethral sound for those that do not know is a metal rod that is inserted into the penis for the purpose of internal stimulation.
Eventually we moved onto a warm up bit of anal / ass play! When I felt he was ready I took him into the next room, threw him in the suspended sling and got out my favorite strap on dildo for a very deep and intense bit of serious ass play time and more BDSM CBT with Mistress!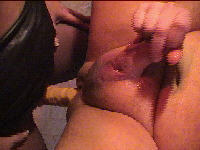 (Note- this was a personal play session between consenting adults and as such there are activities occurring in it that would NEVER be included in a professional session with a Fem Dom or Professional Dominatrix. Also some of the activities pictured here may be illegal in your state and you must be aware of your own local and state laws before ordering this product.)
Running time: 23 mins
Available in CD ROM or VHS NTSC format for $29.95
Click here for Ordering Information